Approved Training Centre
Lilla van der Merwe Accountants is an Approved Training Centre for the South African Institute of Professional Accountants, hereafter referred to as SAIPA. All members of SAIPA have a professional and social responsibility to transfer their expertise and knowledge to learners through learnerships. The SAIPA learnership offers numerous aids to assist learners in their road to a professional qualification. Three primary players, namely the learner, employer and SAIPA, are involved in the training process. The learner, employer and industry benefit from learnerships. Benefits for the learner include practical interaction, free access to learning, skill development, self-improvement, opportunities and the benefit of earning a salary at the same time (Fasset, SETA for Finance, Accounting, Management Consulting and other Financial Services). Skills and knowledge are transferred during the learnership. Knowledge is power, but only when applied. To conclude with the words of Confucius between 479 BC and 551 BC (Answers corporation):
"I hear and I forget
I see and I remember
I do and I understand"
Figure one is an illustration of the training process once the trainee/clerk is appointed by an ATC as presented during an Accredited Training Centre road show presented by John Blignaut (2009). Figure 1: SAIPA training model process (Source: Blignaut, J. (2009): SAIPA AccreditedTraining Centre Road show, Pretoria)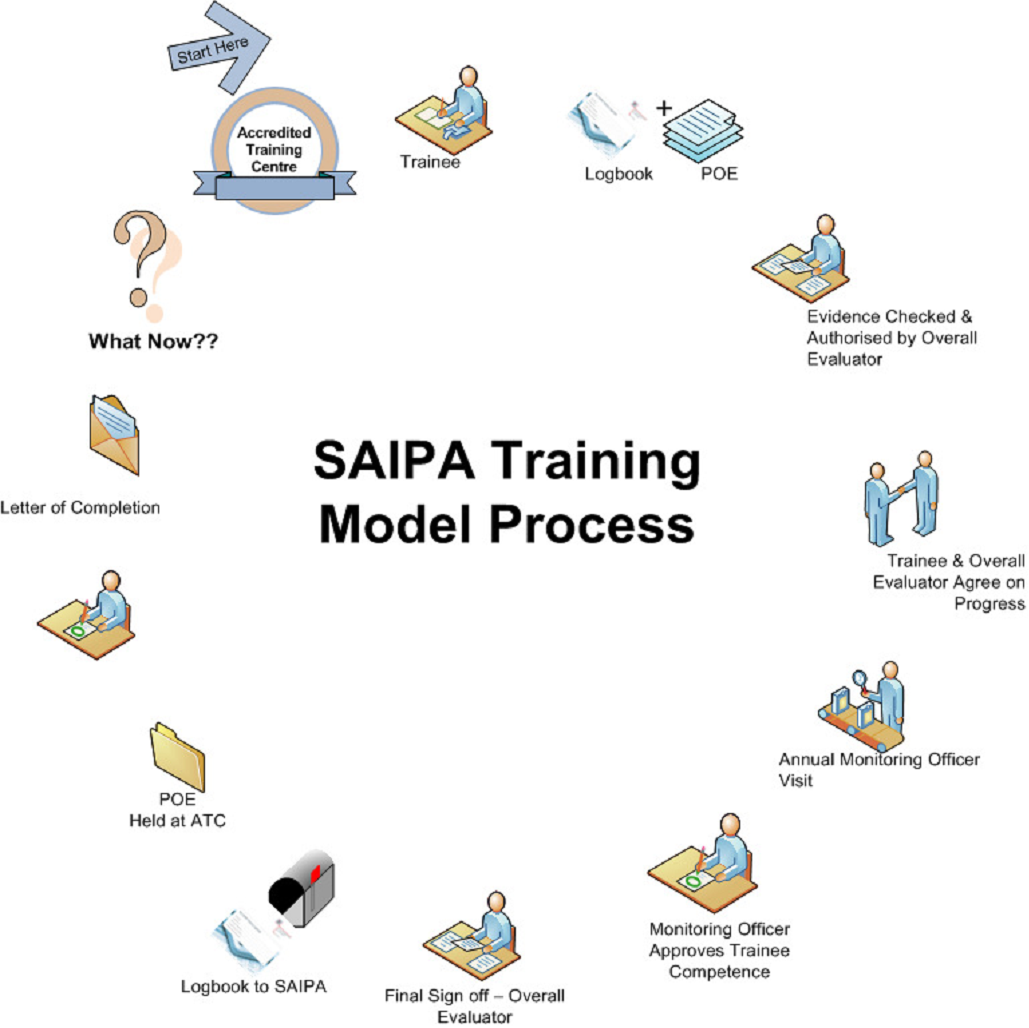 An overall evaluator, employed by a registered ATC, is responsible for monitoring the progress of the trainee throughout the learnership (Three years).
The evaluator is guided by the logbook (supplied by SAIPA).
POE supplements the logbook and is compiled by the learner.
A Monitoring Officer (employed by SAIPA) that visits the practice on an annual basis also monitors the progress of the trainee.
Once the trainee completes their tertiary qualification and three years practical training.
The overall evaluator must sign of logbook, the logbook is sent to SAIPA.
Upon receipt, SAIPA decides on the competency of the learner and after the Professional Evaluation examination is passed, a letter of completion of articles is issued and the trainee is welcomed as a new member of the Institute.
Professional Evaluation: Figure two is a visualisation of the membership pathway that concludes with the passing of the professional evaluation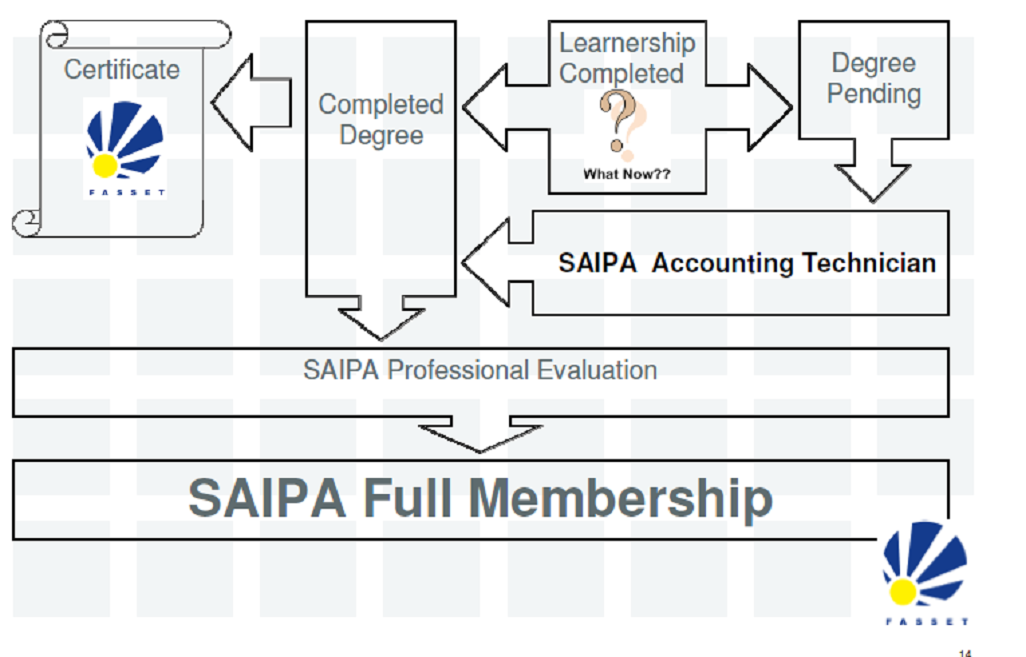 Figure 2: SAIPA membership pathway (Source: Blignaut, J. (2009): SAIPA Accredited Training Centre Road show, Pretoria) Once the trainee's logbook, POE, degree and learnership are completed, a professional evaluation (PE) examination must be passed. Once passed, the learner will be a full member of SAIPA and is entitled to add the designation Professional Accountant (SA) to his / her signature in a professional capacity. A qualification as an Accounting Technician can also be obtained.
For more information please view the SAIPA website on www.saipa.co.za/page/505/about-atcs